Editor's Notes
To all the new subscribers and AACP mailing list members getting the newsletter for the first time, thank you for your support of AACP and for your interest in Asian American books and curriculum materials. We hope that you will find the newsletter to be of value. Your feedback will help to make it so.

Please feel free to send us your reviews, comments, and book suggestions. You can contact us at -
aacpinc@asianamericanbooks.com

Leonard Chan
Editor
---
Survey
KQED FM in San Francisco, about a month and a half ago, had on Professor David Harris of the University of Toledo College of Law. He wrote the book "Profiles in Injustice: Why Racial Profiling Cannot Work." You can hear the broadcast by going to KQED's Forum website - select the listen link for Wed. March 13th at 10am.

Report From AAAS
At the end of this past April the Association for Asian American Studies held its annual conference. This year it was held in Salt Lake City and AACP was there as an exhibitor. For those of you that visited our booth, thank you.

Many of this year's exhibitors were publishers of Asian American books. You can find links to their websites on our links page and following here. Note that these websites often contain a mix of materials including non-Asian American relate items. Wherever possible, links were made to specific pages that may contain items seen at the AAAS conference.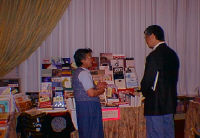 AACP at AAAS